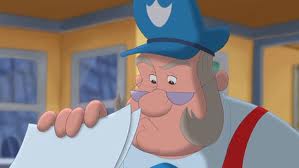 Ian Wolffe(born in September 1st, 1914-February 17th, 1971; 56 years old) is the main antagonist of Bologna On Sly,who is the unfair landlord of the apartment Walter and Xenophanes live in.
Appearence
Edit
Ian Wolfe(also Wolffee, Wolffe, or Wolf) has the appearence of a 72-year-old man, despite just being just 56 at the time of his death, this may be similar to Whitman Mayo (the voice of Garfield Gar), who portrays fictional characters that are older than himself. Ironically, Ian was portrayed by Ian Wolfe, an actor who was 74 years old when voiced...himself!
Ian Wolfe has an odd obsession for trains, owning a conductor's hat(which covers his bald spot) and a toy locomotive. His hat has a gray sheild in the middle. Wolfe has large, grey sideburns that border his 1910s reading glasses. He also has a big nose that he says "runs in the family", which could mean that the nose is an inherited trait. His large eyebrows hang over his small, brown eyes.
Ian has poor hygiene, having yellow teeth, which he says that he couldn't afford toothpaste as a kid, meaning that he was once poor. Ian is also an obese person, weighing 345 lbs. He can barely run. He usually wears red suspenders and a white shirt with a blue tie above large, blue pants and tiny, black tap shoes.
Character/Background Information
Edit
| | |
| --- | --- |
| Feature Films | Bologna On Sly |
| Voice | Ian Wolfe(1971) |
| Other names | Ian Wolffe, Ian Wolffee, Ian Wolf |
| Personality | Cheap, Cruel, Evil, mean, harsh |
| Appearence | [Already discussed] |
| Allies | Simone, Shackleford(fomerly) |
| Enemies | Shackleford(currently), The Spring Penguin, Xenophanes Gryphon, Walter Hedgehog |
| Likes | Money |
| Dislikes | Xenophanes |
| Weapons | rifle |
| Age | [See top]Deceased |
| Gender | Male |
| Quotes | It runs in the family, Shackleford- Him and Shackleford talking about Ian's nose. |
| Occupation | Landlord |
| Hairstyle | Alopecia |
| Favorite Color | Blue |
| Hobby | Collecting trains |
| Sprouse | Simone |
DescriptionEdit
Despite being fat, Ian was proven to run faster than Shackleford. He is a former tax collector, but the declining money drove him insane. He is also the short-lived archenemy of Xenophanes Gryphon, who caused his death. A recurring joke in the film is that Ian cannot spell his name correctly, as he sometimes spells it as Wolffe, Wolffee, or Wolf. Shackleford must remind him of the correct spelling, Wolfe, despite Shackleford being dumb too. Wolfe is somewhat of an antagonist, however, probably is that he is just trying to single out people because he doesn't have much money to call his one. However,
Ad blocker interference detected!
Wikia is a free-to-use site that makes money from advertising. We have a modified experience for viewers using ad blockers

Wikia is not accessible if you've made further modifications. Remove the custom ad blocker rule(s) and the page will load as expected.