The Republican Party is one of the two major contemporary political parties in the United States, along with the Democratic Party. Founded by anti-slavery expansion activists in 1854, it is often called the Grand Old Party (GOP). The party's platform generally reflects American conservatism in the U.S. political spectrum and is considered center-right, in contrast to the more liberal-leaning Democrats.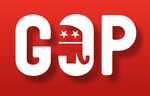 Pages in category "Republican Party"
Ad blocker interference detected!
Wikia is a free-to-use site that makes money from advertising. We have a modified experience for viewers using ad blockers

Wikia is not accessible if you've made further modifications. Remove the custom ad blocker rule(s) and the page will load as expected.