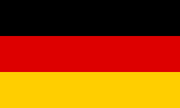 he
Germans
(
Deutsche
) are a
Germanic
ethnic group
native to
Central Europe
. The English term
Germans
has referred to the
German-speaking
population of the
Holy Roman Empire
since the
Late Middle Ages
.
[38]
Of approximately 100 million native speakers of German in the world, about 66–75 million consider themselves Germans. There are an additional 80 million people of German ancestry mainly in the United States, Brazil, Canada, Argentina, France, Russia, Chile, Poland, Australia and Romania who most likely are not native speakers of German.[39] Thus, the total number of Germans worldwide lies between 66 and 160 million, depending on the criteria applied (native speakers, single-ancestry ethnic Germans, partial German ancestry, etc.).
Today, peoples from countries with a German-speaking majority or significant German-speaking population groups other than Germany, such as Austria, Switzerland, Liechtenstein and Luxembourg, have developed their own national identity and usually do not refer to themselves as Germans in a modern context.
Pages in category "Germans"
Ad blocker interference detected!
Wikia is a free-to-use site that makes money from advertising. We have a modified experience for viewers using ad blockers

Wikia is not accessible if you've made further modifications. Remove the custom ad blocker rule(s) and the page will load as expected.